Bee, Bergvall & Co.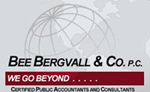 163 S Broad Street
Lansdale PA 19446

Phone: (215) 343-2727
Website: www.bbco-cpa.com
Email: kkaratas@bbco-cpa.com

Bee, Bergvall & Co. is proud to be providing high quality accounting and consulting services since 1982. Drawing from our unique blend of extensive experience in both Public and Private corporate accounting, as well as our in-depth experience in Not-For-Profit and Governmental environments, we are able to offer services and in-sights that few other medium sized Public Accounting and Consulting Firms can. We at BBCO are proud to serve you!
Business Services