Old Forge Collision Centers
920 Walnut Street

Automotive
---
Lins Junction
128 South. Line Street

Retail
---
Koffee Korner Cafe
201 North Broad Street

Restaurants
---
Arnolds Way
319 West. Main Street

Restaurants
---
NYCE Refinishing
28 West. Third Street

Retail
---
Roberts Custom Stairs, Inc
200 West. 5th Street

Building & Construction
---
Dr. Walter J. Drill
920 North. Broad Street

Health Care
---
Current Active Sponsors are randomly displayed above

Click Name to link to Sponsor's Page.
Lansdale History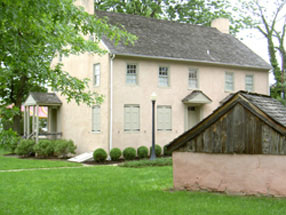 The region's first inhabitants where Indians. Next came European settlers. One of these early pioneers was Jenkin Jenkins, a Welsh immigrant who claimed a large parcel of land in what is now Lansdale Borough as his home. Jenkins is generally accepted as Lansdale's first settler and his 1795 farmhouse is the oldest existing structure in the borough.
By the mid-1800's, the Lansdale area was nothing more than a handful of farms scattered through wilderness. In 1853, the North Pennsylvania Railroad began constructing a new rail line to link Philadelphia to northern parts of the state. Philip Lansdale Fox was the chief surveyor and immigrants provided much of the labor.
By 1856, a portion of the new line had been completed. Rail service now terminated in a tiny hamlet 21 miles north of Philadelphia. But a name for this station was needed. Residents wanted to pay tribute to the original pioneer, but the name Jenkintown had already been claimed. Instead, they took the middle name of the affable railroad surveyor for their town.
The tiny village became a neutral place for railroad workers to settle. Businesses were formed to serve rail workers and passengers alike. Within a few years, Lansdale had graduated from rail station status to a post office village. And by the time Lansdale Borough was officially incorporated on August 24, 1872, the population had swelled to 400.
Before long, another rail line ran through the town. The Stony Creek Railroad carried riders to Norristown. With increased accessibility, railroad operators began luring city residents to the suburbs for weekend excursions. From an insignificant village, Lansdale evolved into an industrial and cultural center in Montgomery County.
The Lansdale Historical Society is a very active participant in preserving Lansdale's past and promoting it's present and future. A number of annual events enrich the community. Starting in November 2009, they introduced a new feature, Back in Time, as a retrospective of events and people that helped shape the North Penn Valley's rich history. Please check on their website for the latest community program looking back in time. The Lansdale Historical Society has one of most extensive collections of historical documents in the county and has a collection of videos on our history for rent or sale.