Milestones in Music

227 South Broad Street
(near the intersection of South Broad St and Hancock St)
Lansdale PA 19446

Phone: (610) 505-1449
Website: www.milestonesinmusic.com
Email: jjones@MilestonesInMusic.com

Today our local Daycare and Studio programs are reaching over 1,200 students each week. Our focus is children from 3 months to 6 years old.
During our weekly classes we introduce the child to a musical world filled with singing, imitating sounds, rhyming, tonal recognition, instrument exploration and creative movement. We integrate music with expressive language, storytelling, peer interaction, movement, and pretend play.
In 2011 Milestones In Music became a certified provider of the Autism Movement Therapy program. With the opening of our new Lansdale studio, we have added Autism Movement Therapy classes to our schedule for children 3 years to 12 years old. Our classes supplement the early intervention assistance that ASD children may be receiving from skilled professionals.
For children that need some additional assistance, private speech therapy sessions are also available. Individual instruction in piano, flute, and guitar has been added to the services provided by Milestones In Music.
Private lessons are available for individuals for children and adults. Each instructor is accomplished in the pedagogy and performance of the instrument(s) they instruct.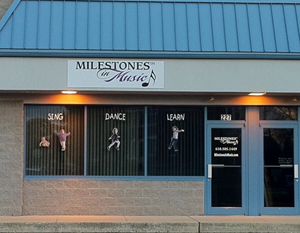 Arts & Entertainment